WELCOME TO GARDINER PRIME ANGUS
About Us
Patrick and Ada Gardiner started their Angus herd with five bred heifers purchased from the J & B Angus herd of Bob and Hollyce Neumeyer in 1994. We give thanks for all of the wonderful friends we have made over the years as we build our herd and realize that what Angus customers really want in a bull or heifer is a healthy, productive animal that will maximize the value of the herd. That means to us that the customer is first looking for trust. He or she wants ease in calving, performance, good disposition and of course, carcass quality in the cowherd. After all, this is a business, and quality means profit.
Our breeding philosophy concentrates on targeting genetics through the use and analysis of epds (expected progeny differences,) together with DNA testing which provides even greater accuracy.
Our goal is to produce high-quality, balanced genetics for commercial and purebred breeders. We strive to breed performance and carcass traits into our cattle as much as possible Without giving up the "must haves" – fertility, function, phenotype, and calving-ease. By using the best sires in the industry in combination with our quality female base and top-end donors, we will continue to advance our breeding program for predictable genetics with guaranteed customer satisfaction being our highest priority.
We welcome private treaty sales. Come visit us at the ranch, or feel free to give us a call and discuss what we can do to your herd.
Pat Gardiner: 208 267-3194
Glenn Ensz: 208 597-0617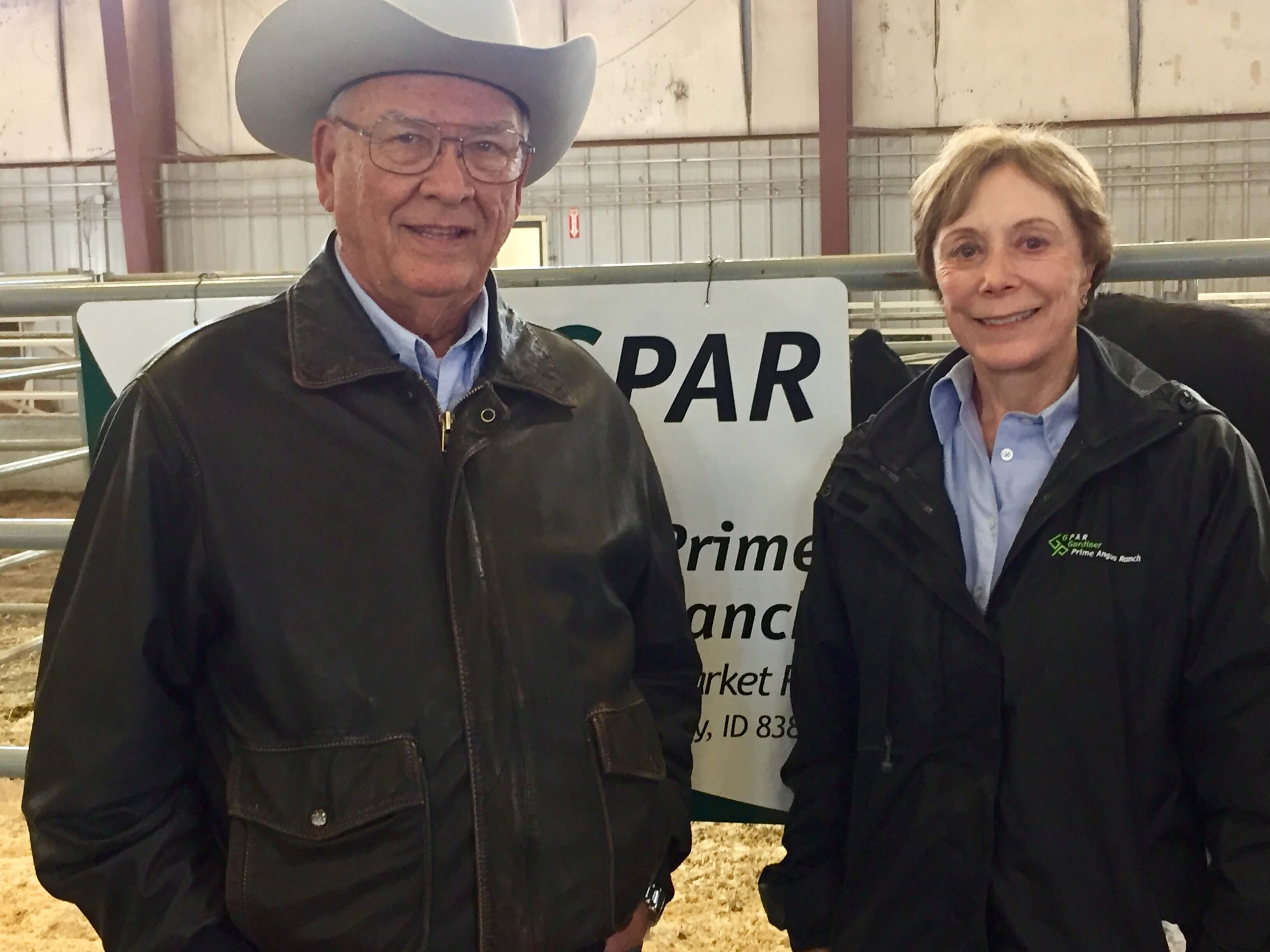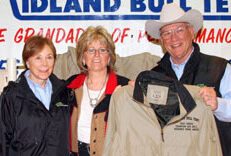 Presentation of ADG jacket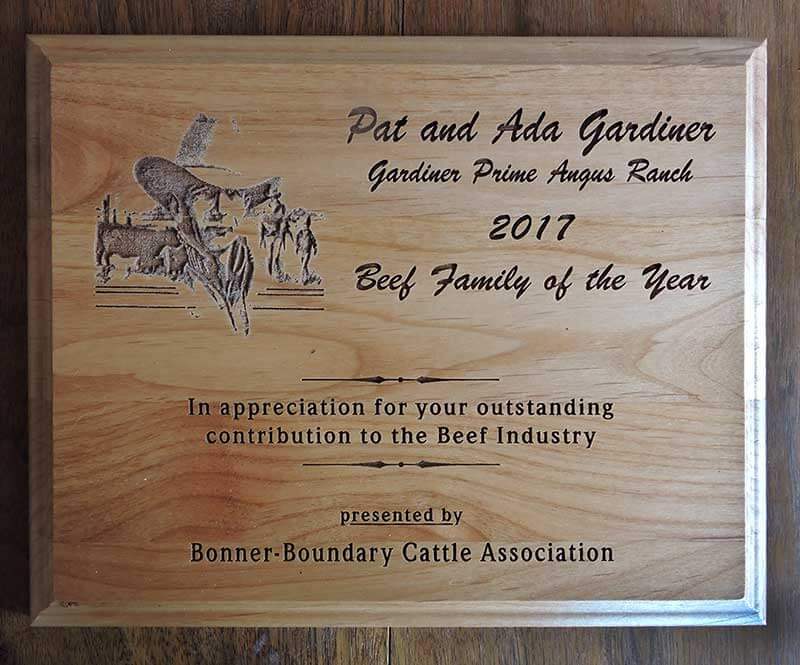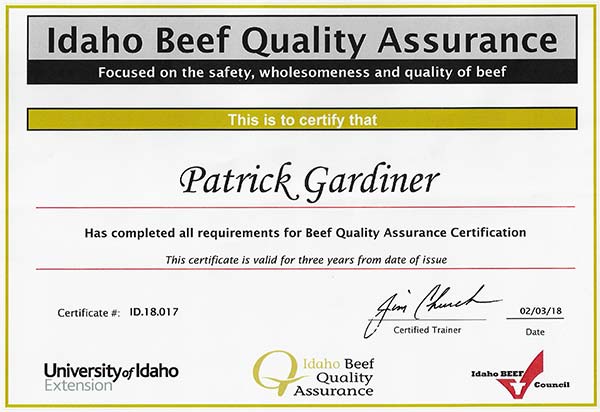 SALE OFFERING
Mark your calendars for the 2022 Ranchers Choice Bull Sale on February 26th at the JR Ranch Sale facility on HWY 17 in Othello, Washington! We're excited to have our good friends and fellow Angus breeders at SHB Angus bringing additional bulls to make for a great selection along with our bulls. For additional details and updates go to www.rancherschoicesale.com.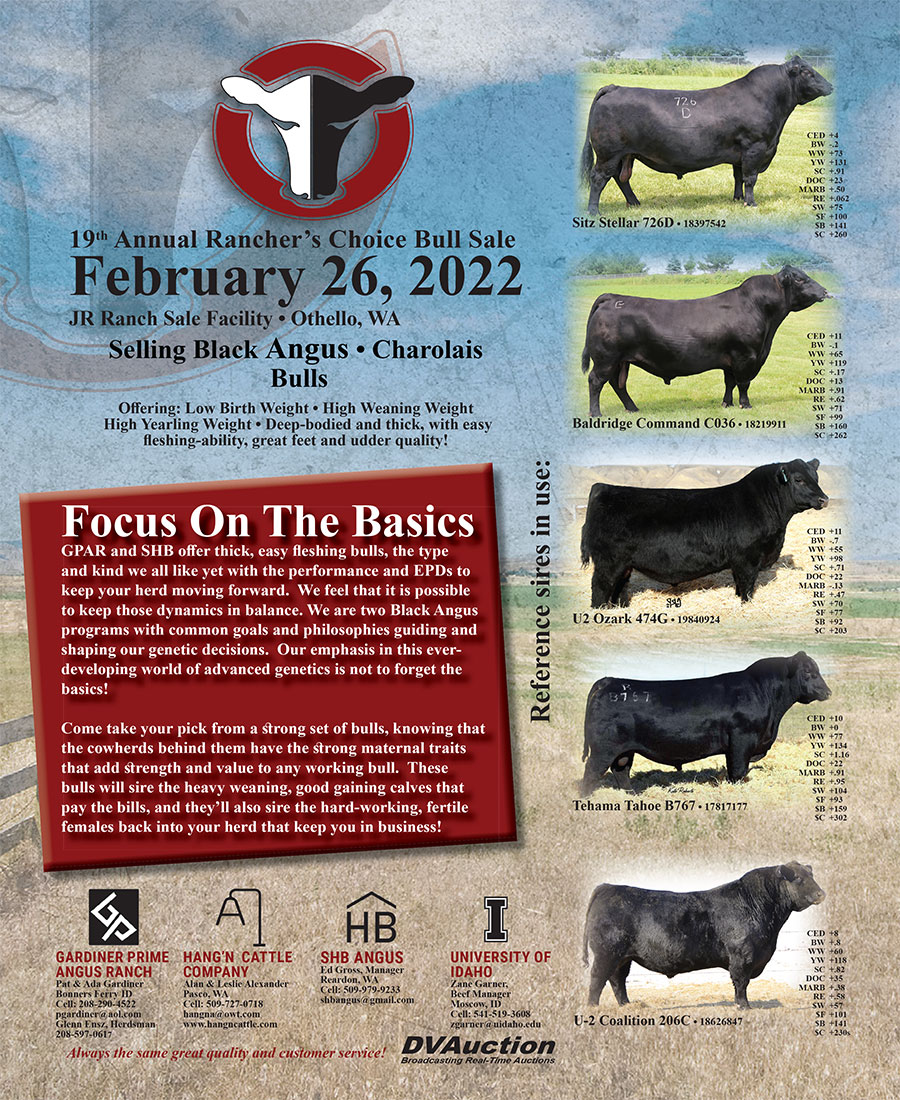 CONTACT US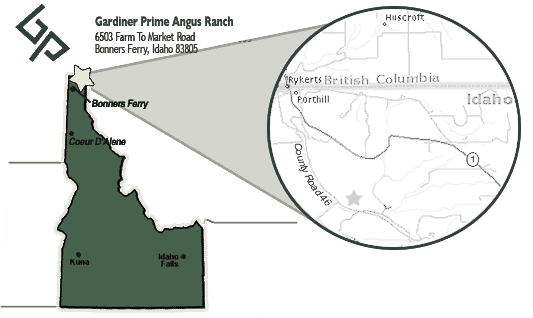 Directions
We are located in Porthill, Idaho, approximately 24 miles north of Bonners Ferry. From Coeur d'Alene, take I-95 north through Sandpoint and Bonners Ferry to the "Y" junction where I-95 meets Idaho State Highway 1, approximately 14 miles north of Bonners Ferry. Take the left fork of the "Y" which is Idaho 1, that curves left and down the hill to Porthill. (Porthill is a one-road town located at the USA/Canada border.) Continue north on Idaho 1 about two more miles past Mt. Hall School, to the green "Copeland Bridge/Westside Road" sign on your right. You will also see a sign near this designating Copeland Road as a "Sportsman's Access" road.
Turn left on Copeland Road and proceed down the hill approximately 1 mile to Farm To Market Road, which will be on your right before you get to the Copeland bridge (that runs over the Kootenai River). Turn right (north) on Farm To Market Road for approximately seven miles to the GPAR ranch. Turn right to our driveway road, through the green gate and up the hill to the ranch. If you miss the Copeland Road turn, continue north on Idaho 1 approximately ten more miles to Porthill. Turn left (west) on Trading Post Road through Porthill (a general store and two gas stations). This road ends at the top of Farm To Market Road. Turn Left (south) on Farm To Market Road approximately 2.8 miles to GPAR ranch. Turn left into the driveway, through the gate and up the hill to the ranch.
The nearest commercial airport is Spokane, Washington. From the airport, take I-90 East about 30 minutes to Coeur d'Alene to the "I-95 Sandpoint/Moscow" exit. Turn left on I-95 at the signal in the direction of Sandpoint. Take I-95 through Coeur d'Alene. Proceed north on I-95 through Sandpoint and Bonners Ferry.
Private pilots may land at the Bonners Ferry Airport. Call us for details. There is also a grass field, Eckert International, 2.5 miles from the ranch at the border. Call us and we will pick you up.